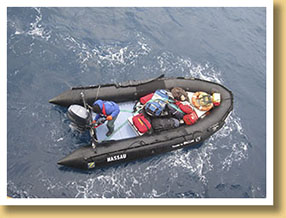 "We got up at 6:30, had breakfast and began donning our all weather gear. A layer of underarmor, a layor of warm regular clothesand a layer of outer water proof clothes. By the time you have it all on, you are hot. We went down to the water level deck and put on our water proof knee boots. The zodiacs pulled up with the 20 foot seas causing them to bounce around a bit. The staff helped us step into the boats and off we went at relatively high speed to the shore. We had been afraid we would not get in, but had no problem once we were on the bobbing boats. On the beach, we were immediately greeted by the sight of large elephant seals sleeping in grass, on the trail as well as on top of each other. They have huge eyes and sweet faces. They yawn, fart, blather and snort. I expected the penguins to be the high point of the island but honestly the elephant seals were a trip. You had to be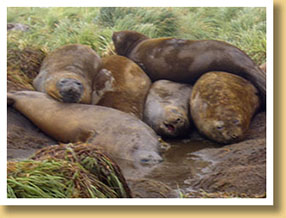 careful where you were walking not to step on a two or three ton animal buried in a ditch, molting. We walked along the beach and up a relatively high walkway to get a higher view of the island, albatross soaring over the spine of the island, and down to the beaches on either side, with the Orion anchored off shore. Down we went back to the trail and across to the other side of the narrow island where we began encountering singles and then groups of penguins standing, laying, waddling and flapping. When sea birds that are prone to attack them flew over, the group would let out a croaking sound to warn them off. I saw one penguin begin chasing a predator around. Some of the birds opened their peaks and charge each other. Occasionally, a group would form a line like they were marching, except their cadence is a waddle. A few got very close to us. We worked our way along the beach, sighting the male elephant seals which must weigh as much as three tons. They are gigantic creatures with more moaning, roaring, snorting and farting. A real crazy sight.
On the way out, as we were all thinking about what a great morning it had been, three of us spotted tall fins undulating in the water between our zodiac and the ship. They were the fins of two or three orcas swimming by. WOW! One surfaced enough to see his smiling face. Unfortunately, they made two or three dives and then disappeared. But still, my first whale sighting!!!!! Actually, an orca or killer whale is the largest of the dolphin family, but who is splitting hairs. Talk about but a huge smile on my face. As we pulled up to the ship, we announced our sighting. The crew had been so busy watching for us, no one else saw them ... so a very private excitement for the ten of us on the zodiac."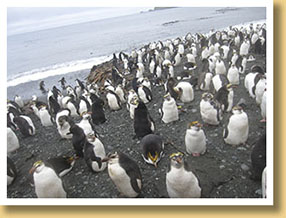 Next, the ship moved to another more isolated part of the island where the Royal penguins hang out. For those of you who saw Happy Feet, the Royals are the ones that led Happy Feet astray. They have yellow strands that shoot out on either side of their heads. We rode the zodiacs on to the beach where we were greeted by hundreds of King penguins who were milling all around us. From there we walked along the beach through an area where the Royals come down from their rookery and head for the sea. There were probably a thousand of them. They are going to the sea to get food to take back to their chicks up at the rookery which is about 500 feet up the hill along a ramp built so we could get to them. Others were standing on the beach because they are molting. The noise is intense as they croak, screech, bite, push and shove each other.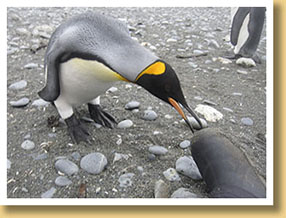 We had to carefully cross their path so as to not interfere too much with them. Up at the Royal Penguin rookery, the chicks are now fairly large but still more or less white with funny fluffy coats. When their mom finds them apparently by sound, hence a lot of the noise, they open their mouths expecting to be fed. After watching them for a while, and struggling down the hill as my old legs are reacting to all the walking, I cruised along the beach to a spot near a large number of King penguins and sat down quietly by myself. We are supposed to stay 5 meters away from them but they can choose to come up to you. As they have virtually no fear of us, some of them get curious and a trio moved right in front of me. They pretend to be disinterested, but can't help themselves so soon they are right next to you. One of them began pecking at my boot to see if it was edible. Another one tried to bite my gloved hand when I held in out. A third one literally tripped over my leg which was extended out in front of me. This happen two or three times with different penguins. It was a really fun game to sit very still, make noises and get them to come over.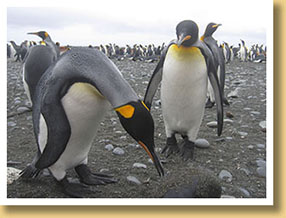 Ultimately, we went for coffee and cookies at the dining hall for the scientists who live on the island for as much as two years at a time. As I think I've said, they are the most isolated colony of humans on the planet... or close to it. Only 1,000 people a year are allowed to come here, but only about 750 make it. After the huge waves yesterday, we were really happy to get ashore to the isthmus of the island. All in all, we were happy for an exciting visit to some creatures who have absolutely no understanding or fear of humans."