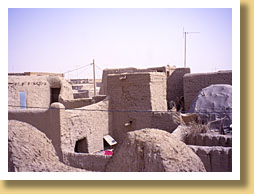 In the West Africa expedition with Wilderness Travel, one of the highlights was arriving in Timbuktu and seeing the unique, clay/mud Djinguereber mosque built in the 14th century. John met with the Taureg men of the Sahara Desert, visiting their camp via a camel.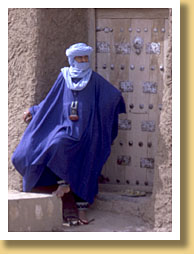 December 17, 2000

"From Timbuktu to the edge of the Mediterranean zone is 45 days bycamel across this ever increasing sand.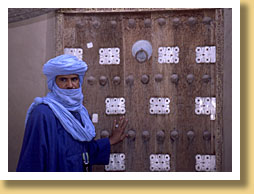 Our room is like a monk's cell. [I'm writing by candlelight at 6:00pm] Everywhere we see Tuareg men in their flowing blue robes and turbans – often pulled across the face. When they approach, there is a constant flow of greetings being exchanged, "Bonjour… ca va… est-que tu va bien?… while handshaking goes on and as they leave.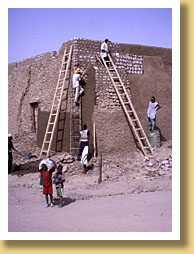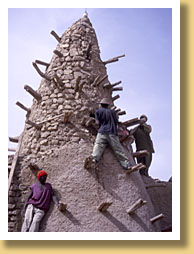 We walked over to the main mosque in Timbuktu, built in 1326. It is of brick and mud and is renewed each year – right now construction is under way. Bricks are shot putted up to the mason who puts them in place. They are then capped in dark mud that acts like plaster. The heavy parts of the mosque are supported by pillars with splints buried under several areas to add their strength to the towers. The floors are light powdery sand. There are mats of straw or reed to pray on. The mosque has an alcove facing Mecca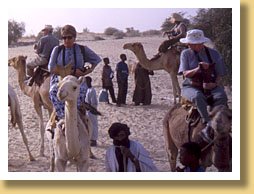 where the mullah gives his lesson from the Koran. Light is from strategically placed openings in the walls and ceiling. I petted a tiny bird who lives inside.
Next day, it was off to a camel ride in the Sahara outside of Timbuktu to a Taureg camp. This was a highlight. You sit on a saddle with your legs resting along the neck and your ankles crossed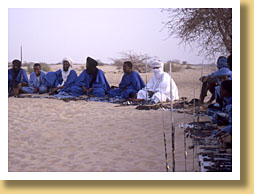 in front to form an "X" at the neck…. I found this much easier than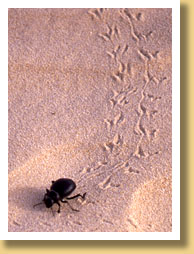 riding a horse. We spent 2 hours in the camp stopping inside compounds where families live.
I walked in the desert – took pictures of beetle tracks and sat with the camels – nice to be in silence with the sound of goats – the camels hassling each other – odd chicken and the sound of Taureg men talking. We rode in jeeps back and you got a sense of what it would be like to see Timbuktu emerging from the desert after a long journey."